Day 4: Joseph Carberry's Inn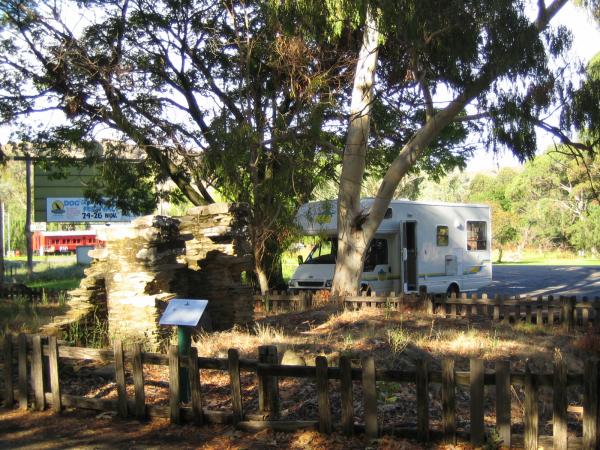 By the Dog on the Tuckerbox is the ruins of Joseph Carberry's Inn.
The inscription at the site reads:
These are the ruins of an inn that was built by Joseph and Rosannah Carberry in 1857-1858 and opened by them as 'The Limestone Inn' in April 1858. It consisted of twelve rooms with a cellar at the southern end, a detached kitchen, a storeroom, stables and other outbuildings, all of them built of stone. The Carberrys erected the inn to cater to the passing trade on the main road between Sydney and Melbourne, but it also attracted much local custsom largely because of Rosannah Carberry's fine pianoplaying. In April 1861, a bushranger named 'Jack-in-the-boots' and an accomplice held up the inn and robbed patrons and staff of their money. After the Carberrys changed the inn's name to 'The Australian Arms' for a short period, it was run by a succession of other licencees as 'The Squatter's Arms' from 1865 until it finally closed in 1876.
Here are photos of the ruins of their inn.